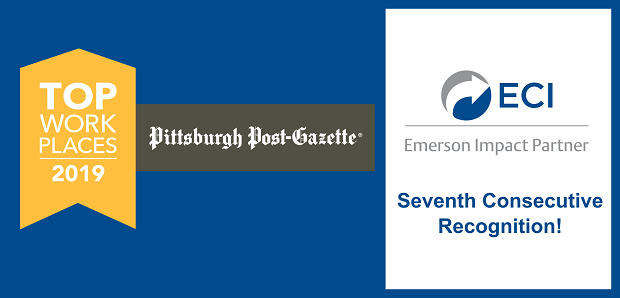 We are proud to share that our parent company, ECI, has received a seventh consecutive recognition as a Pittsburgh Post-Gazette Top Workplace! It's an honor to be a part of this amazing team – this recognition is based solely on employee survey results and employee insight drives our culture.
"We receive this honor because of our employees – both their input and engagement in this survey, and their investment in ECI's success every day," said Dan Smith, ECI President & CEO. "The greatest honor for any organization is to be recognized by your team members."
The employee feedback is gathered through a third-party survey administered by research partner Energage, LLC, a leading provider of technology-based employee engagement tools. The anonymous survey measures several aspects of workplace culture, including alignment, execution and connection.
About ECI
ECI specializes in process control and industrial automation products and solutions for manufacturing and process customers in the oil and gas, chemical, power, food and beverage, mining and metals, life sciences, pulp and paper, refining, petrochemical, OEM and nuclear industries. In addition, as an Emerson Impact Partner, ECI provides engineering, site support and training services for customers. Founded on the principles of product quality, reliability and safety, ECI offers unmatched product and service solutions designed to meet specific customer needs. ECI is an ISO 9001:2015 registered company and employs more than 250 professionals at seven locations across Western Pennsylvania, West Virginia, Ohio and Western Maryland. The Pittsburgh Post-Gazette honored ECI with a seventh consecutive Top Workplace Award in 2019. For more information, call 724.746.3700 or visit www.eci.us.